When Russia published its nuclear fusion-fission hybrid technology last October 2014 [here], it was meant to tell the world that they, together with China, are ready to move away from fossil fuel based energy source.
Hybrid nuclear plants eliminate the risks of radioactive meltdown and may even be used to recycle radioactive nuclear waste to remove radioactivity while producing energy in the process.
Since then, several oil exploration companies have stopped all scheduled drillings.
Oil projects worth billions put on hold – FT.com
Billions of dollars of spending on oil and petrochemicals projects has been scrapped or put on hold, with Royal Dutch Shell and UK-based Premier Oil announcing the first big cost-cutting moves of 2015 after a brutal slide in crude prices.
The Anglo-Dutch oil major on Wednesday abandoned plans for one of the world's biggest petrochemical plants, a $6.5bn project with Qatar Petroleum, blaming "the current economic climate prevailing in the energy industry".
Its move came as Premier said it would delay a final decision on whether to proceed with the $2bn Sea Lion project off the Falkland Islands until there was a recovery in oil prices. The company has also cut rates of pay for contractors and other freelance workers engaged in projects in the North Sea and southeast Asia and is attempting to renegotiate deals with suppliers to trim operating costs.
http://www.ft.com/intl/cms/s/0/dc94b628-9be7-11e4-b6cc-00144feabdc0.html
Chevron scraps Canadian Arctic drilling plans as oil prices fall
US courts have foiled a US$9.5 billion fraud judgment against Chevron in the United States, April 26, 2014. — ReutersCALGARY, Dec 18 — Chevron Corp is putting a plan to drill for oil in the Beaufort Sea in Canada's Arctic on hold indefinitely because of what it called "economic uncertainty in the industry" as oil prices fall.
In a letter to Canada's National Energy Board yesterday, the company withdrew from a hearing on Arctic drilling rules because it has walked away from plans to drill in the EL 481 block, 250 kilometres (155 miles) northwest of Tuktoyaktuk, Northwest Territories.
The drilling project is the largest yet put on hold after oil prices dropped by nearly half over the last six months, even as a long list of oil companies cut their budgets for 2015 because of the price drop.
http://www.themalaymailonline.com/money/article/chevron-scraps-canadian-arctic-drilling-plans-as-oil-prices-fall
Ensco Scrap Another Five Jackup Rigs And One Drillship
Author: Svilen Petrov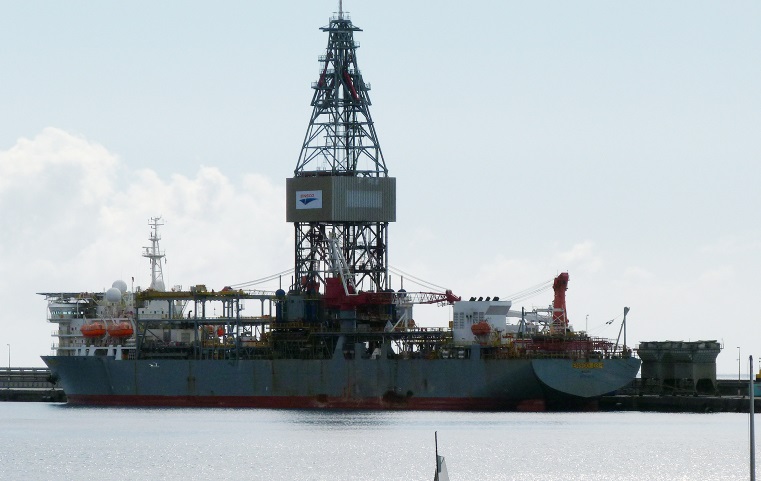 The offshore drilling company Ensco plans to scrap five jackup rigs and one drillship, as part from optimization and cost cutting program. The decision for scrapping of another 6 vessels was announced during financial report for Q4 2015 and mostly based on the low oil prices and stagnation in offshore drilling sector.
http://www.newsmaritime.com/2016/ensco-scrap-another-five-jackup-rigs-and-one-drillship/
Shell just scrapped its Arctic drilling plans for "the foreseeable future"
Elaine Thompson/AP
Protesters demonstrate near Shell's Arctic drilling rig, the Polar Pioneer, while it was docked in Seattle this summer.
And just like that, it was over.
After years of botched attempts, mountains of red tape, billions of dollars, and countless face-offs with protestors, Royal Dutch Shell announced today that it is pulling the plug on all oil and gas exploration in the Arctic Ocean "for the foreseeable future."
http://www.motherjones.com/environment/2015/09/shell-just-scrapped-its-arctic-drilling-plans-good
Transocean's rig scrapping tally hits 18
Transocean Ltd. has announced that it intends to scrap two more rigs.
The company intends to dispose of a midwater floater GSF Aleutian Key and high specification, deepwater, semi-submersible rig Sedco 707. According to Transocean, these rigs are classified as held for sale.
Offshore Energy Today previously reported that Transocean intends to send seven and another four rigs to the scrapyard.
As a result of this decision, the company expects its first quarter 2015 results to include an estimated non-cash charge of $90 million to $110 million, net of taxes. Including these two rigs, Transocean has announced plans to scrap a total of 18 floaters.
Transocean added that as the company continues to evaluate the long-term competitiveness of its fleet, additional rigs may be identified as candidates for scrapping.
Offshore Energy Today Staff
http://www.offshoreenergytoday.com/transoceans-rig-scrapping-tally-hits-18/
Exploration for oil, gas off N.C. scrapped in new federal plan
By Rob Morris on March 15, 2016
Overwhelming opposition from coastal communities was among the factors cited in a decision to exclude waters off North Carolina from a new oil and gas leasing plan announced today by the U.S. Department of the Interior.
The Proposed Program for 2017-2022 evaluates 13 potential lease sales in six planning areas — 10 in the Gulf of Mexico and three off the coast of Alaska. None are scheduled in the Mid- and South Atlantic Program Area.
"We heard from many corners that now is not the time to offer oil and gas leasing off the Atlantic coast," Secretary of the Interior Sally Jewell said.
"When you factor in conflicts with national defense, economic activities such as fishing and tourism, and opposition from many local communities, it simply doesn't make sense to move forward with any lease sales in the coming five years."
http://outerbanksvoice.com/2016/03/15/exploration-for-oil-gas-off-n-c-scrapped-in-new-federal-plan/
Offshore drilling plan scrapped for SC, other Atlantic states
By SAMMY FR***************@th******.com
The federal government dropped plans Tuesday to allow oil and natural gas drilling off the South Carolina coast in a dramatic policy reversal that angered some state officials but delighted coastal leaders, environmentalists and grassroots organizers.
South Carolina is among four South Atlantic states that no longer will be considered for offshore drilling, U.S. Interior Secretary Sally Jewell said. The waters off North Carolina, Georgia and Virginia also were dropped from consideration.
The decision represents a major change of course for the Obama administration, which last year offered plans to allow drilling along the South Atlantic after Southern governors said they favored it.
http://www.thestate.com/news/local/article66107742.html
Three days ago, the Rockefeller Foundation surprised the mainstream media with its announcement to divest away from oil, even going to the extent of attacking its own Exxon's "morally reprehensible conduct, alluding to allegations that the company has hidden evidence that fossil fuels contribute to climate change."
After 146 years, Rockefeller family is exiting the oil business
Alain Sherter
Heirs to the oil fortune created by John D. Rockefeller, who founded Standard Oil in 1870, are exiting the family business.
The Rockefeller Family Fund, a charity that supports causes related to the environment, economic justice and other issues, is liquidating its investments in fossil fuel companies, including Exxon Mobil (XOM).
"While the global community works to eliminate the use of fossil fuels, it makes little sense — financially or ethically — to continue holding investments in these companies," the fund said on Wednesday in a statement. "There is no sane rationale for companies to continue to explore for new sources of hydrocarbons."
The fund, which manages roughly $130 million, said it would immediately divest holdings of Exxon, as well as sell its investments in coal companies and tar sands-based oil producers.
Exxon, the world's second-biggest company, is a descendant of Standard Oil, which was famously broken up in 1911 as part of President Theodore Roosevelt's "trustbusting" campaign.
In announcing its decision, the Rockefeller fund attacked Exxon for what it called the company's "morally reprehensible conduct," alluding to allegations that the company has hidden evidence that fossil fuels contribute to climate change.
http://www.cbsnews.com/news/rockefeller-family-is-exiting-the-oil-business/
Yes, we should not let our guards down as the move away from oil feeds another deception called "climate change." Of course, nobody could debate this phrase as climate do change all the time, but they are still piggybacking it with "global warming" hoax and the "need for zero carbon", that is a very big problem.
Even then, the move to do away with oil is not a choice anymore considering that:
They were not successful in laying pipelines across Syria and any other country as the BRICS Alliance is preventing them from waging war for oil anymore;
Other countries have discovered they have oil, too and Saudi Arabian oil is depleting;
The suppression of free energy technologies can't be sustained unless the internet is shut down;
The myth that oil is scarce has now been broken as more and more countries have discovered they have oil deposits, too. And these countries are getting smarter that they don't want other exploiters to extract the resources for them.
If the energy monopoly can't be sustained, what is the other option?
The only option left for the Old World Order is to play the cooperative guy and agree to the gradual release of cleaner energy technologies which should keep the bottomline viable.
For the nth time the White Dragon Society spokesman, Ben Fulford, confirms that the unfolding global reset is with the cooperation of the Anglo-Saxon Monarchy and the Jesuit Vatican.
https://www.youtube.com/watch?v=W0YyWJF8wo4
We would not be surprised if the price of solar panels and wind turbine will be brought down to affordable levels.
So, they will allow the commercial application of clean energy machines, just like they allow the metered flow of data through the internet. Capitalism will be sustained for as long as necessary while the process of technocratic dictatorship through micro-chipping is being laid down.
Here's what we mean,
The fastest way to get hold of a new Tesla Model 3
Tesla is set to pull the covers off its much-anticipated new Model 3 next week and prospective buyers are getting to ready to battle it out to secure the "it" car of the moment.
With an expected price tag of around £30,000, the company's first foray into the mass market is far less expensive than its upmarket Model S and demand is expected to be high.
Pre-orders will open on 31 March, when the car is unveiled, and "anyone who dreams of owning an affordable Tesla, and has $1,000 to hand over for a deposit, can sign up", says Business Insider.
However, with production not due to begin until late 2017, the first deliveries will not arrive until sometime in 2018.
Priority is being given to people who are already customers, meaning the fastest way to get hold of a Model 3 for people who aren't currently Tesla car owners "is to buy a Model S or Model X", says the company.
http://www.theweek.co.uk/70320/the-fastest-way-to-get-hold-of-a-new-tesla-model-3
They can't shut the internet down anymore because the critical mass of the awake and aware has been achieved and the people are reaching their tipping point. If the insensitivity will continue, the next stop will be an armed revolution.
Besides, the internet is also a critical component of the next phase of our imposed  manipulated reality which is the technocratic dictatorship where they will tie us down completely to the AI machines.
Keep your vigilance, and keep rattling the cage wherever and whenever necessary, while the slow unfolding global reset continues to unfold.